holy.oylh
Regular price
Sale price
$22.00 USD
Unit price
per
Sale
Sold out
A rich and smooth, whipped body butter developed for use on all skin types -- especially dehydrated and sensitive skin needing care.  Formulated with five raw,* skin-nourishing butters and oils, it has a warming effect, relieves inflammation (pain, irritation), and delivers antioxidants, fatty acids, and vitamins to the skin and underlying muscle tissue. This combination effectively moisturizes the skin and helps repair and protect it from the elements.
Our Raw Body Butter:
- Improves skin elasticity
- Strengthens & regenerates skin by enhancing collagen production
- Repairs oxidative stress and severely aggravated skin
- Fights fine lines, wrinkles, scars, stretch marks, and uneven skin tone
- Penetrates layers of skin for deep moisture and skin repair
- Full of saturated oleic, saturated stearic and palmitic acids all beneficial to skin
- Acts as a barrier against pollution and strong winds
- Packed with Vitamins K, E, A
- Safe for all skin types
Fragrance Notes: nutty, chocolaty, smokey, earthy. (There are no added scents - this is the fragrance of the raw ingredients).
Ingredients:  Unrefined Shea Butter with Borututu Tree Extract, Cocoa Butter,  Organic Mango Butter, Organic Cold-Pressed Virgin Coconut Oil, Organic Extra Virgin Olive Oil, and Organic Vitamin E Oil (from non-GMO soybeans, 1%).
**ALL100% Organic & Raw ingredients only**
*Raw a.k.a. "virgin", "extra-virgin", and "unrefined"  - minimally processed to retain integrity.
Best for:
Dry skin needing nourishment (replacing "lotion")

Irritated skin (eczema, psoriasis, insect bites, rash, etc…)

Scar tissue/ Stretch Marks

Sore Muscles/ Massage

Tattoo Care

Shave Oil/ After-Shave Oil

Scalp & Hair Oil (on towel-dried hair)
Butter will melt upon skin contact and in the jar above 76 degrees F (24 C). Please keep the product away from extreme temperatures.
Amber glass jar with metal lid, compostable sugarcane label.
Lovingly Handmade in the Catskill Mountains, Upstate NY
Share
View full details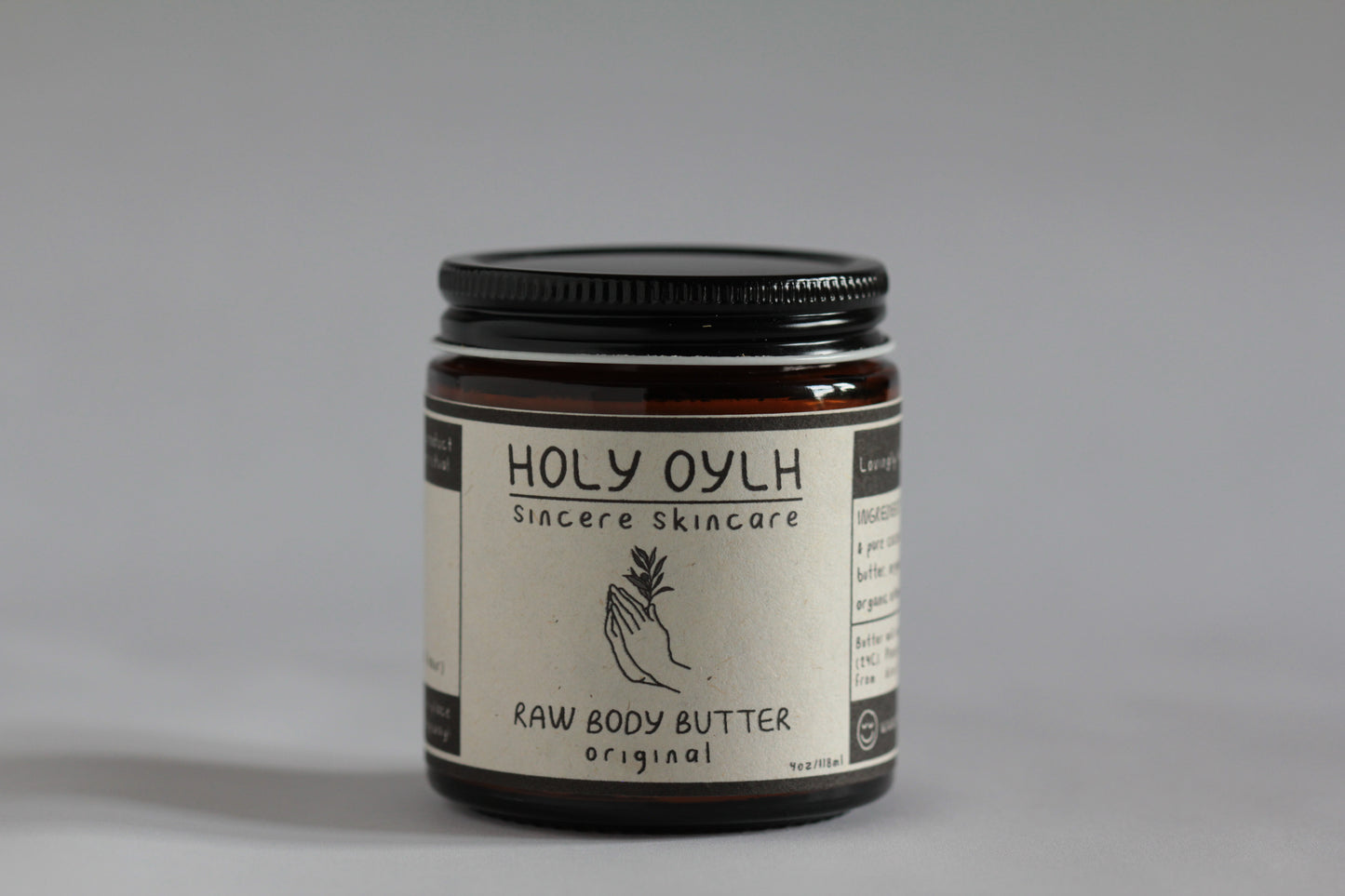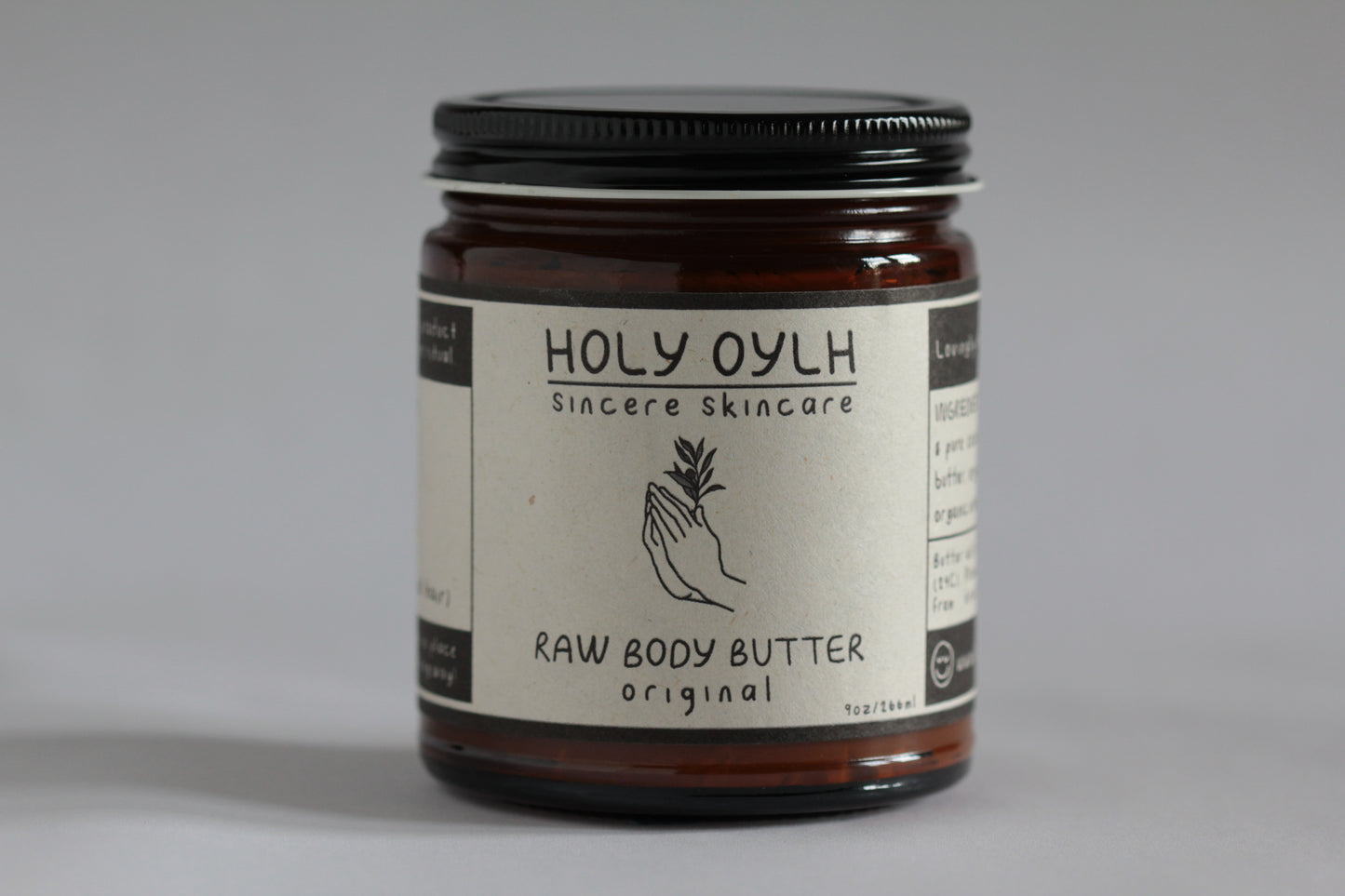 Frequently asked questions:
What is the products' shelf life?

All products' expiration date is 1 year after it is made. You'll likely use them much more quickly than that!
Do you ship Internationally?

Yes! We offer multiple options for shipping to the majority of the world.
Is the tube packaging really compostable?

100% yes! The paperboard tube and sugarcane label will break down completely in a backyard or commercial composter, or simply, outside in nature. Please do not litter, though.